On this page, we'll go over the core AP Biology prerequisites so that you can decide if you are ready to take this challenging college-level course.
AP Biology Prerequisites
The two main prerequisites for AP Biology are high school biology and chemistry.
If you're interested in taking AP Bio, you'll need to have a solid foundation in biology basics, introductory chemistry concepts, and math (algebra, geometry probability, etc).
So if you're struggling with either biology or chemistry, it's probably not a good idea to take AP Bio.
If you have any questions about your preparedness have a talk with your guidance counselor to see what they can do to help you get ready for AP Biology
Preparing for AP Biology
If you're planning to take AP Biology one of the best ways to prepare is by taking an online biology or chemistry course. These courses can help you review key concepts and learn new material in a structured setting. Plus, they're convenient and they offer a lot of free resources like practice tests and video lessons.
Online Biology Course
Contemporary Biology – UNT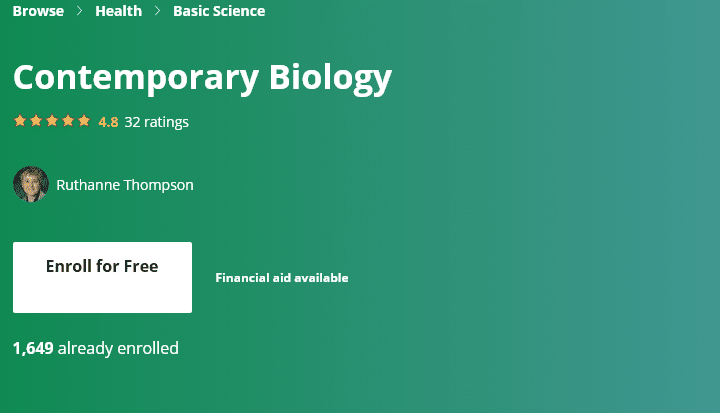 The University of North Texas offers a Free Online Contemporary Biology Course that will give you all the knowledge you need to succeed in AP Biology. This course is taught by experienced instructors and provides ample practice questions and video lectures to help you understand complex topics.
This class covers all the main topics in introductory biology including cell structures and function, energy transfer and flow, eukaryotic cells, DNA, and cell division and heredity. And since this is an online course, you can study at your own pace and fit the class into your busy schedule.
So if you're ready to tackle some tough biology concepts, Sign up for Contemporary Biology (Click Here)
Online Chemistry Course
Chemistry – University of Kentucky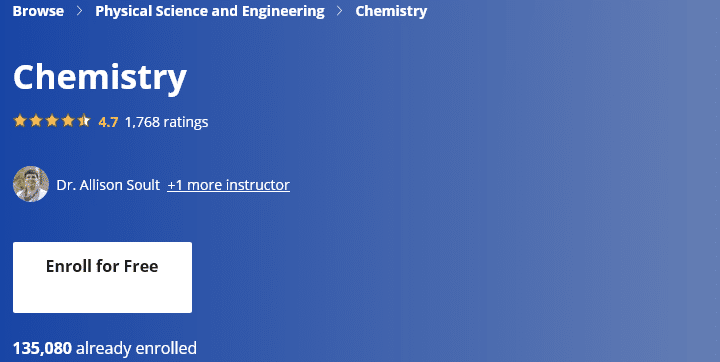 The University of Kentucky offers an excellent Online Chemistry Course that covers all of the material you" need to get ready for AP Biology and AP Chemistry. You can access this course from anywhere in the world and it is completely self-paced, so you can work at your own speed. Plus, there are no required chemistry textbooks since everything you'll need to know is fully covered in the video lectures.
Online AP Biology Courses
Are you a high school student who is interested in taking an AP Biology course, but don't have the time to attend a traditional class? If so, an Online AP Biology Course may be perfect for you.
This type of online course allows students to learn at their own pace and from anywhere they have an internet connection. Plus, these online courses offer supplemental materials such as videos, quizzes, and interactive activities.
AP® Biology – Part 1: The Cell

In the first part of the AP Biology Course Series, you'll be examining the structure and function of the cell in detail. Then you move on to explore some of the amazing biochemical processes that occur within cells, as well as how cells communicate with each other. Later on, you'll also take a closer look at how biological systems interact with one another. And finally, you'll learn how biological systems use energy to maintain homeostasis.
AP® Biology – Part 2: Genetics

In the second part of the AP Biology series, you'll learn how Mendel discovered the basic principles of heredity, and then discuss how molecular genetics has taken that knowledge to a whole new level. Finally, you will examine some of the ways living systems store, retrieve, transmit and respond to information.
AP® Biology – Part 3: Evolution and Diversity

In the third and final installment of the AP Biology series, you will be exploring Evolution and Diversity. You will learn about what evolution is, how it drives the diversity of life on Earth, and how biological systems interact with each other.
Related: Best AP Biology Textbook
AP Biology Enrollment Questions
How much math does a student need before taking AP Biology?
In order to be successful in AP Biology, a student does not need to have completed an extensive amount of math. Algebra and geometry are the most important skills, as well as percent calculations, scientific notation, basic probability, and graphing. With a little bit of review and practice, these skills can be mastered relatively easily.
In what year of high school should students take AP Biology
Most students take AP Biology in their junior year, but there is no hard and fast rule. Some students choose to take it in their senior year, especially if they didn't take chemistry in 10th grade. Regardless of when you take AP Biology, be sure to have completed the prerequisite courses – biology and chemistry – first.
Is AP Bio harder than AP Chem?
No, AP Bio is not harder than AP Chem. In fact, many students find AP Bio to be an easier class because it covers a broad range of topics and doesn't require as much in-depth knowledge of chemistry. However, both classes are challenging and will require you to put in a lot of effort to get a good grade.
Does AP Biology require chemistry?
Yes, AP Biology does require knowledge of chemistry. In addition to the general chemistry topics covered in a regular high school course, students taking AP Biology should be familiar with atomic structure, chemical bonding, and organic chemistry.
Do you have to take biology before AP Biology?
AP Biology builds on the knowledge you gain in a regular biology course, so if you have the opportunity to take biology first, do it. That way, you'll be better prepared for the more challenging material in AP Biology.
Can 10th graders take AP Biology?
Yes, a 10th grader can take AP Biology if they have already taken the necessary biology and chemistry prerequisites. The College Board recommends that students have completed one year of high school biology and are taking or have completed one year of high school chemistry before taking AP Biology.
Can I take AP Bio Before AP Chem?
Yes, you can take AP Bio before AP Chem. In fact, many students do. You only need to take a high school level chemistry course before taking AP Biology, so taking AP Bio without also taking AP Chem will not be a problem.
AP Biology Course Content
Unit 1: Chemistry of Life
Unit 2: Cell Structure and Function
Unit 3: Cellular Energetics
Unit 4: Cell Communication and Cell Cycle
Unit 5: Heredity
Unit 6: Gene Expression and Regulation
Unit 7: Natural Selection